Out and About at the 2000 YUSA Reunion.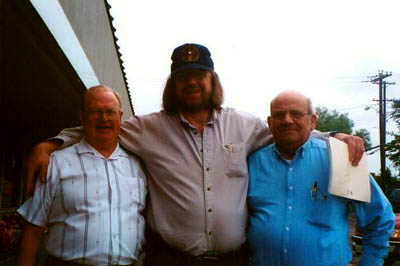 Left to right, John Redman, Bill and Chris Christ outside Denny's.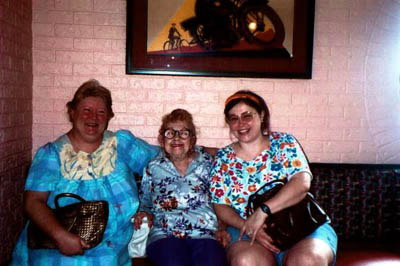 Left to right, Debbie Stanley, Mama Bett and Kim wait for a table at Denny's.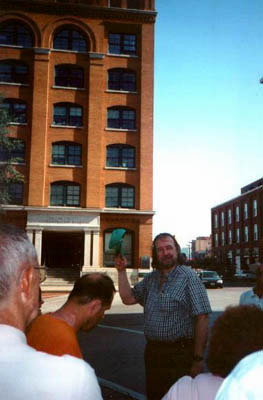 Bill points out the 6th floor window of the Texas School Book Depository in downtown Dallas.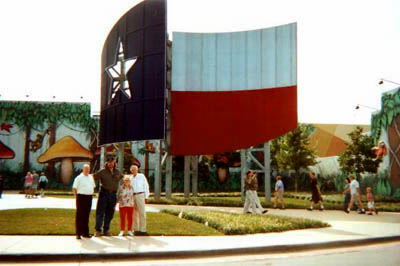 Outside Grapevine Mills shopping mall near DFW Airport.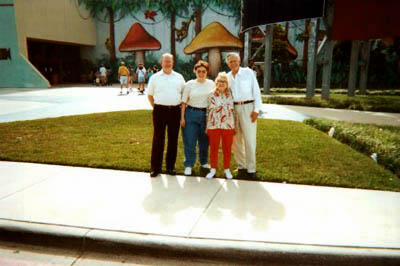 Left to right, John Redman, Kim, Mama Bett and Frank getting ready to "shop till they drop."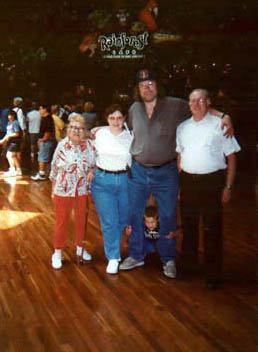 Outside the Rain Forest Restaurant at Grapevine Mills.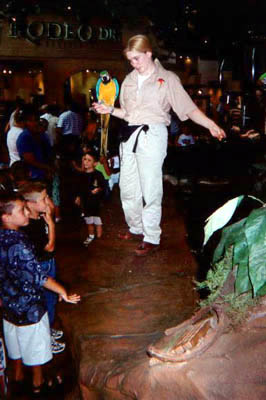 One of the many birds at the Rain Forest. No, that's not Bigboy.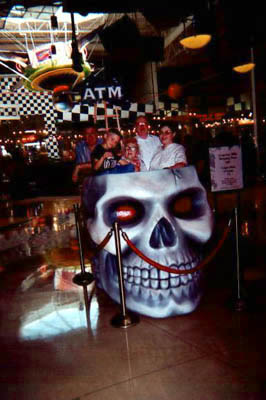 Having fun in the mall with Mike and Mitch Handy.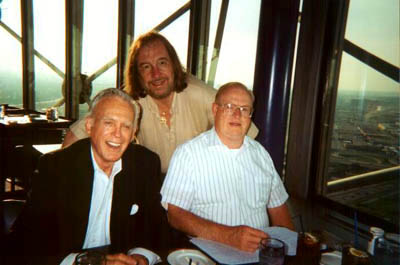 Frank Bill and John Redman about to eat dinner 30 stories up at Antares Revolving Restaurant inside the Reunion Ball.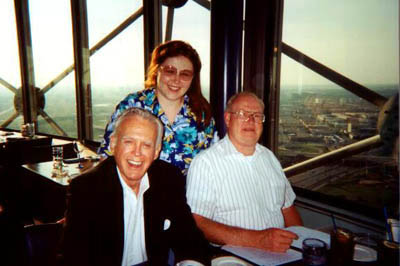 Kim has a big smile because there will be no dishes to wash.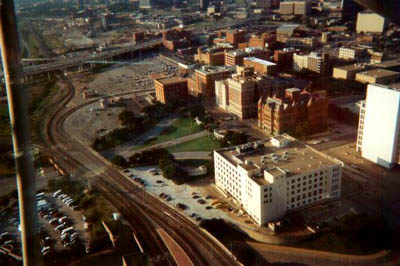 Wow, check out that view of Dealy Plaza in downtown Dallas where President Kennedy was shot.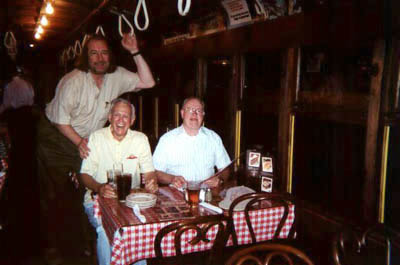 Lunch at the Old Spaghetti Warehouse in downtown Dallas. They even have a real street car inside the restaurant.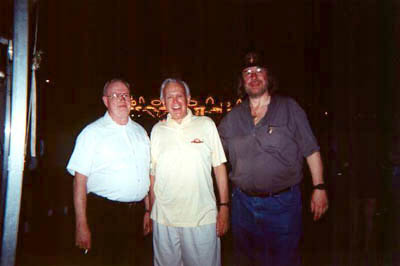 John Redman, Frank and Bill on the midway in Garland, TX during the July 4th bash.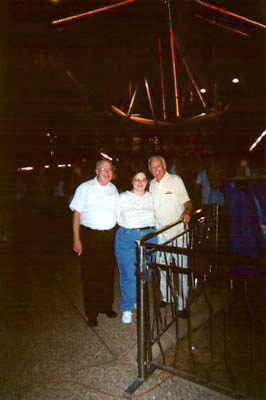 More fun on the midway with John Redman, Kim and Frank.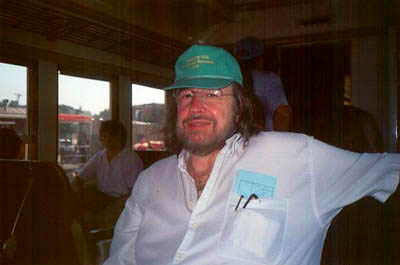 Bill relaxes on board the Tarantula steam train somewhere between Grapevine and Ft. Worth, TX.

John Redman gets a cool breeze as the train speeds along.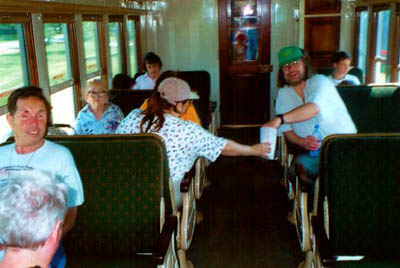 Mama Bette looks on as Kim shares her popcorn with Bill. Wayne Thompson (far left) listens to the crunching sounds.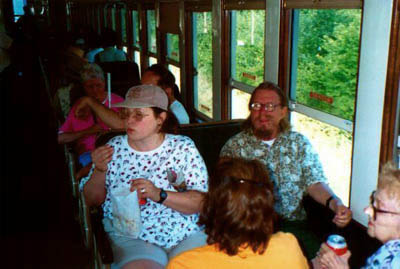 Kim continues to munch her popcorn as Michael Gorman looks on.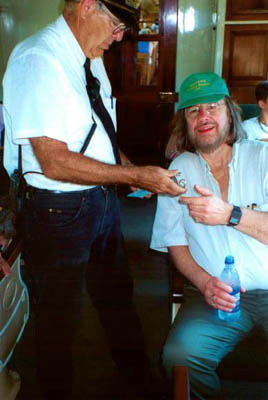 The friendly conductor punches Bill's ticket.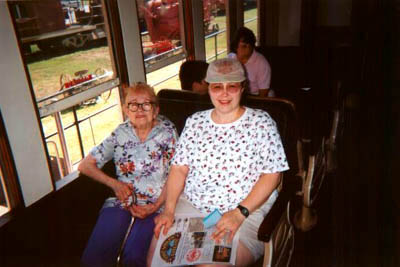 Mama Bett and Kim relax on the train.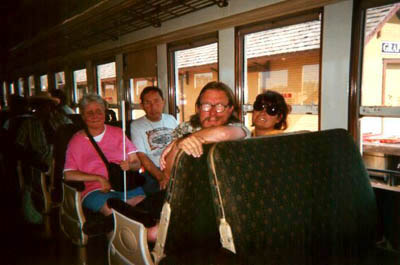 The "California Gang" riding on the train.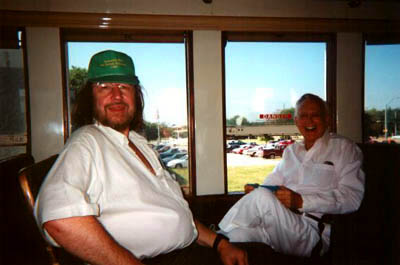 Bill and Frank having fun on the train.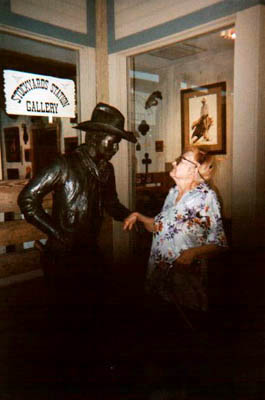 Mama Bett meets her first "Texan" at the Stockyards Station.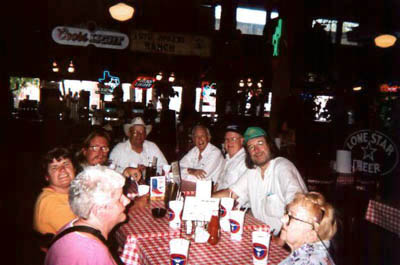 Dinner during the layover at the Stockyards Station in downtown Ft. Worth, TX.

Bill wishing he could add this beauty to the collection.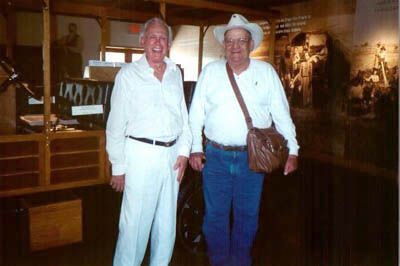 Frank and Chris Christ cool off in the visitor center after the train ride.

"The Bragg House", where bill's aunt and uncle once lived, has been restored and moved to the town square in Grapevine, TX near the train station.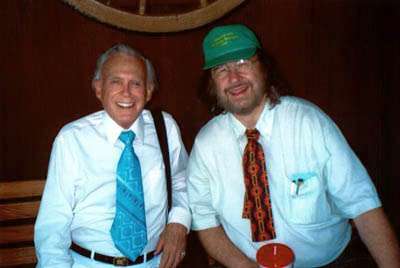 Left to right, Frank and Bill outside the Trail Dust Steak House. Those ties are not long for this world.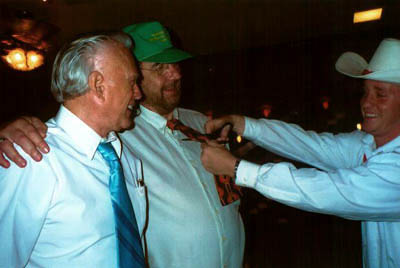 The Trail Dust does not allow ties. When Bill refused to remove his tie, it was cut off by our waiter.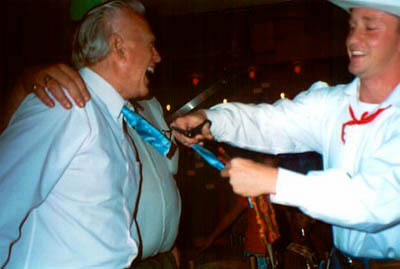 Frank is all smiles as his tie gets cut off.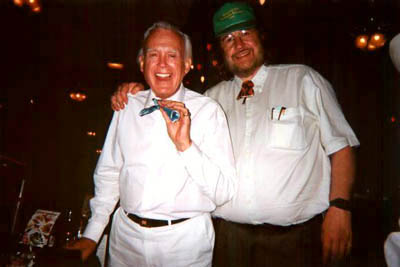 Bill puts his arm around Frank just after he's "been clipped."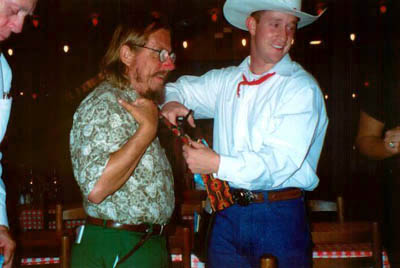 Michael Gorman gets his tie cut off too.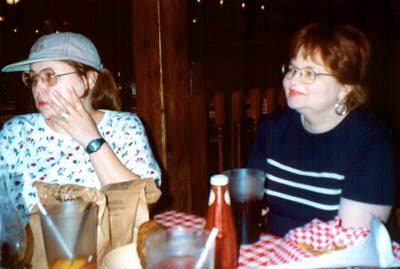 Kim and Jan Geiger watch in amazement as the boys get their ties cut off.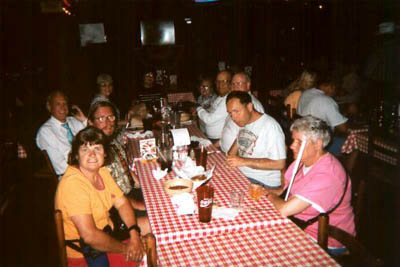 Dinner at the Trail Dust Steak House.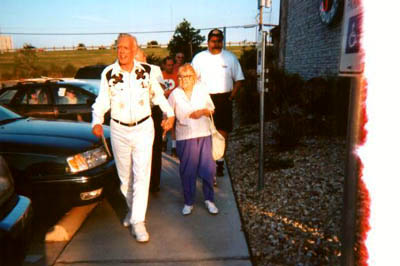 Frank and Mama Bett on the way to the farewell dinner.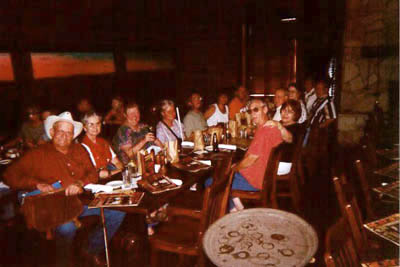 Farewell dinner for Frank Bresee at the Texas Land and Cattle Co. Restaurant in Richardson, TX.