| | | |
| --- | --- | --- |
| | | Now in our 31st year of broadcasting high quality old time radio shows free of charge 24 hours a day |
About Yesterday USA - Changes/corrections will be made to this page asap!

Unlike traditional Radio Stations that broadcast directly to members of the general public, Yesterday USA only transmits it's powerful signals directly to broadcast satellites and/or to organizations that stream audio on the internet! Therefore, our actions DO NOT constitute a "Public Performance" of any kind! YUSA is NOT licensed by The Federal Communications Commission (FCC), and as a result, is NOT subject to any FCC rules and/or regulations! Persons and/or organizations who choose to tune to the output of the Satellites that broadcast our signals, and persons and/or organizations who choose to visit Web-Sites that voluntarily stream our audio; do so at their own personal risks! We do, however, pledge to (at all times) offer only clean, wholesome, family type material; by presenting public domain old time radio shows from the 1920s - 1950s, 24 hours a day - 7 days a week. It is possible to listen to YUSA via the Internet, C-band Satellite Dishes, most Cable TV Systems, in many Hospitals & Nursing Homes, on cellular and dial-up telephones and on various privately operated Low-Power AM & FM Radio Stations. Our service is free of charge to any and all persons and/or organizations who care to listen and/or to all persons and/or organizations who may care to distribute or re-broadcast our signals in any form or manor! Click here for listening options on the Internet.

Yesterday USA was founded in 1983 by Bill Bragg (shown right). It is the worldwide voice of the National Museum Of Communications, Inc., a non-profit 501 (c) 3 Texas Corporation, which Bill also founded in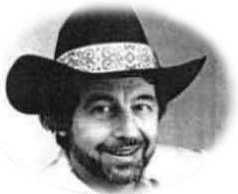 1979. Yesterday USA's purpose is to preserve and present the history of radio and to tell the world about the Museum.
The station operates on a non-profit basis and is funded entirely by contributions from its listeners and anonymous donors. YUSA is operated by an all-volunteer staff. No one at YUSA receives a salary of any kind! (Click on Donate Money Now to support Yesterday USA. )
YUSA is on the air 24 hours a day, 7 days a week and operates on "two-week cycles". During each two-week period a total of 87 hours of LIVE and/or recorded programming is prepared and presented. The format is public domain OLD TIME RADIO SHOWS all day long everyday, with a LIVE Broadcast each night at 10:30 PM Eastern Time. 24 of the 87 hours are created by a staff of over 25 dedicated volunteers (such as Ronnie Milsap, Frank Bresee and others). The volunteer DJ's record their presentations (containing the Old Time Radio shows) in their home studios, and then send their recorded tapes to the YUSA Studios. These tapes are then assembled onto 16 ninety minute Master Program Tapes, which are aired via a computer controlled the NEW Automation System invented by Bill Bragg, Rick Porter, Roger Wentzel and Frank Smith. The Rotation Schedule (available only to Supporting Members) is such that the listener can tune in during the same ninety minute period each day; and always hear something new and different! The 63 remaining hours (87 hours minus 24 hours contained on the 16 Program Tapes) consists of the nightly LIVE Broadcasts and Special Programs.
Finally, the 249 hours remaining in the two-week period (336 hours in a two-week period minus 87 hours of produced programs) contain re-plays of the 16 ninety minute Master Program Tapes. These convenient re-plays allow our audience the opportunity to re-listen and/or record the 16 Master Program Tapes; during the periods when we are not airing LIVE Broadcasts and Special Programs. All 16 Master Program Tapes and all LIVE Broadcasts are presented during "Prime Time" (between 6:00 PM and Midnight) in all 4 U.S. Time Zones during each "two-week cycle".