Who is Big Tex?
For starters, he's the world's best-known 52-foot-tall talking cowboy. The famous State Fair of Texas icon will be greeting fairgoers, Sept. 29-Oct. 22, in Dallas.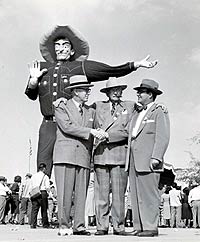 Big Tex's debut was auspicious at the 1952 State Fair. Speechless that first year, a little engineering helped him 'find' his voice in 1953. He's been talking ever since. A friendly wave was added in '97; three years later, he began turning his head. Tex may talk a little s-l-o-o-o-w, but without question, he is one of the most famous Texans on earth. He is certainly the tallest.
Many 'baby boomers' acknowledge their 50th birthdays, and Tex was no exception. A festive party was thrown in 2002, replete with a giant birthday cake and an AARP card. It is not known if Tex has taken advantage of that membership.
Fun Facts about Big Tex
• Who makes the clothes for Big Tex? He's a practical guy who prefers the solid workmanship and comfort offered by Fort Worth's own Williamson-Dickie.
• What size is his shirt? Big Tex has a 30-ft. chest, a 10-ft. neck and shoulders measuring 12-and-a-half feet. His cowboy shirt sleeves measure 15-and-half-feet.
• What about his pants? Tex's waist is a surprisingly trim 23-and-a-half feet, and the inseam of his Western-cut jeans measures 15-and-a-half feet. Incidentally, Big Tex's pants weigh 80 lbs., and it costs in excess of $300 to clean them.
• Does he change clothes? An outfit typically lasts a couple of seasons. Standing outside for 24-days will take a toll on a fellow's duds. In 2005, Tex got new Dickie's jeans and a new cowboy shirt with (faux) pearl snaps, half-moon breast pockets and a collar with Western tips.
• What about his hat and boots? Ariat has got him covered with a pair of size-70, 'ostrich'-skin footwear. On top? A 75-gallon cowboy hat.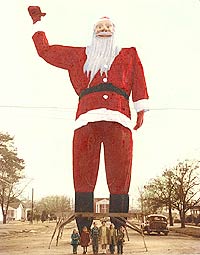 • Is it true he was once Santa Claus? Yep. In an effort to lure shoppers downtown, the Kerens (Texas) Chamber of Commerce installed a giant Santa in 1949. After a couple of years, his 'contract' expired, and he was purchased for $750 by State Fair president and former Dallas Mayor R.L. Thornton. Dallas artist and stage designer Jack Bridges magically transformed St. Nick into a huge cowboy and, by 1952, Big Tex was on board for good.
• What's Big Tex made of? His original body got an extreme makeover in 1997. Underneath those clothes, he sports a cage-like skeleton consisting of 4,200 feet of steel rods that weigh 3 tons.
• Who talks for Big Tex? Since 2002, Bill Bragg has provided the booming voice for him from a discreet location near Big Tex Circle.
• What's his most famous quote? "Ho-w-w-w-w-d-e-e-e, Folks! Welcome to the State Fair of Texas!"
• Do people in other places know who Big Tex is? Absolutely. Big Tex has appeared in local, regional, national and international news coverage. His resume includes film, too. In 1961, Big Tex 'co-starred' with Ann-Margret in the locally-shot remake of the movie, State Fair.
• Does he travel? Not anymore. In 1953 he accompanied the Dallas Jaycees to a national convention in Minneapolis. He went to Abilene Christian College's 50th anniversary in 1955, and Rotarians got an up-close look at Tex in 1958 at SMU's Moody Coliseum. Dallas motorists must have rubber-necked like crazy in 1962 when he appeared outside the Holiday Inn Central for a broadcasters' conclave. In 1965, Australia wanted him to travel Down Under for its Royal Easter Show, but he declined the offer. Dallas traffic must have been impacted again in 1979 when Big Tex loomed outside the Apparel Mart at a reception for long-time Fair president, Bob Cullum. Life on the road ended for Big Tex in the mid-1980s after an appearance at the Dallas Convention Center for another round with the Rotarians.
• When will he be back in Fair Park? He'll be back on Monday, Sept. 25, before the Fair opens on Friday, Sept. 29. The 2006 State Fair of Texas runs through Sunday, Oct. 22.